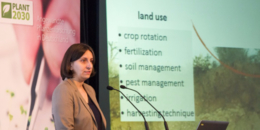 March 17, 2016
PLANT 2030 unites research activities funded by the Federal Ministry for Education and Research (BMBF) within the field of applied plant research (in German: http://www.pflanzenforschung.de/de/plant-2030/uberblick/).
From 14th – 16th March, 2016 the "PLANT 2030 Status Seminar 2016" was held at Potsdamer Kongresshotel at Templiner See. For the first time and on the initiative of BMBF also the projects of the BonaRes funding programme took part in this event.
The meeting's agenda contained presentations on the status and progress within ongoing projects of the BMBF initiative Plant technology PLANT KBBE, DPPN, IPAS and BonaRes. In this respect plant and soil researchers had a platform to get to know each other and to exchange various steps and approaches.
The BonaRes Centre was introduced by its coordinator Dr. Ute Wollschläger (UFZ) illustrating the structure and the basic objectives of BonaRes and its Centre. In the scope of another panel session, Prof. Dr. Hans-Jörg Vogel (UFZ) introduced the approaches of modelling soil processes for gaining improvements on the drivers influencing soil functions. Dr. Uwe Heinrich (ZALF) presented the targeted structure of the BonaRes Data Centre for soil data.

As for the BonaRes programme, the seminar provided a second get-together after the Kick-Off Meeting in Berlin / October 2015, and many representatives of the joint projects along with the BonaRes Centre participated. Within a BonaRes session of more than 100 participants, the collaborative projects introduced their planned projects as well as their current state of work. Additionally, the BonaRes collaborative projects were also presented in a poster session.

In the afternoon of the second day, specific working fields of the BonaRes Centre were discussed workshop sessions. Focus was put on creating a common base with the joint projects for future exchange.
Representatives of BonaRes' collaborative projects actively participated in an elevator-pitch-session which was one of the highlights of the Plant2030 Status Seminars in Potsdam. Young researchers took the challenge and presented their works vividly and even very entertainingly within 2 minutes in front of an audience. Three outstanding presenters were awarded with prize money of €500 which had been sponsored by Gemeinschaft zur Förderung von Pflanzeninnovation e.V. (GFPi).