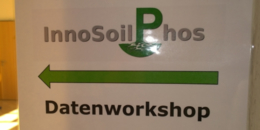 May 14, 2019
InnoSoilPhos data workshop in Rostock

Together with the coordination InnoSoilPhos (BonaRes research project), on the 15th and 16th April 2019 the BonaRes Data Centre organized an individually tailored BonaRes data workshop in Rostock on "How to publish research data in the BonaRes Repository?"
During the workshop, researchers from InnoSoilPhos described their research data with metadata, supported by the Data Centre.
14 participants from InnosoilPhos joined the workshop (Foto below) that started with a short overview of the services of the BonaRes Data Centre with focus on the Data Portal (upload of research data and description with metadata) and legal aspects (embargo time and licenses). During the second day of the workshop, participants were able to familiarize themselves with the functionalities of the Metadata Editor.