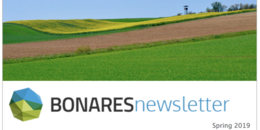 May 03, 2019
BonaRes Newsletter now online
We are pleased to announce that the BonaRes Newsletter is now online. The first issue can be found at
https://newsletter.bonares.de/home
. The Newsletter is published in German and English.
In order to be informed about the publication by e-mail in the future, you can subscribe to our mailing list:
We hope for many subscribers. Please feel free to also inform stakeholders and cooperation partners about the Newsletter.
Have fun reading!