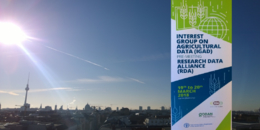 March 27, 2018
BonaRes Data Centre at RDA-11-Plenary
From March 21 to 23, the Research Data Alliance (RDA) conference took place in Berlin.

As members of the RDA and the Agricultural Data Interest Group (IGAD), data scientists of the BonaRes Data Centre partake not only the Plenary meeting, but also the pree-meeting of the IGAD.
The IGAD met and discussed the FAIR data principles (https://doi.org/10.1038/sdata.2016.18) for various agricultural research data infrastructures and exchanged ideas about their applicability and realisations. With its installed infrastructure the BonaRes Data Centre complies these widely accepted principles.
The achievements of the BonaRes Data Centre regarding to the infrastructure were discussed with international colleagues from KTBL, Rothamsted Institute, and ZB-MED and other interested researchers. We presented the BonaRes data infrastructure on two interdependent posters and received a lot of attention, encouragement and critical discussion.
During the RDA conference various topics which also concern the development and operation of the BonaRes Data Centre, were discussed within different Working Groups, such as Data Citing, Data Versioning, Agrisemantics and Metadata.

Posters, discussion and presentation of the assembly can be found here:
rda-eleventh-plenary-meeting-berlin-germany
igad-agriculture-data-interest-group